In order to use the subway, you need to pay a fare. There are currently two ways to pay, as the MTA is currently working on replacing an old system used since 1992 with a new system. The old system works with a physical farecard called the MetroCard, while the new system called OMNY is an electronic, contactless payment system where one uses a contactless credit card or smart device like a mobile phone.
The new OMNY system was introduced in May 2019 and while it's fully available at every station throughout the system, it does not yet support unlimited monthly or weekly passes. For this reason, both systems will coexist at the same time with the old MetroCard-based system continuing to be operational until at least July 2023.
OMNY
OMNY is the new contactless payment system and is short for One Metro New York. The system is also sometimes referred to as Tap-and-Go. With OMNY you can use a contactless credit card, debit card, reloadable prepaid card or digital wallet (e.g. Apple Pay, Google Pay or Samsung Pay) to pay for your fare at subway stations and buses that have OMNY card readers. Many credit cards already support touchless payment, though you might have to call them to verify or activate it. Besides setting up your smart phone/smart watch with a digital wallet/touchless payment option, there is nothing else you need to do to use it with the OMNY system. Note though that the OMNY system currently only supports single-ride fare (at $2.75).
The readers look like this:
The readers are found at every turnstile at every subway station and on every MTA bus throughout the entire system.
In order to use OMNY, first make sure that the reader has the four blue corner lights and says "OMNY TAP HERE":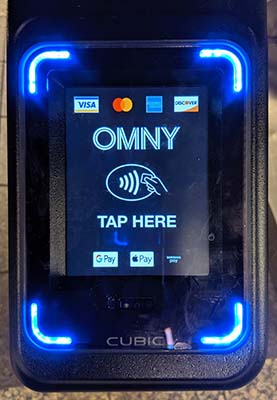 Tap your contactless credit card/phone/wearable near the reader (you don't actually have to touch it). You will hear a beep and the digital screen will display "GO" on a green background.
The regular single-ride fare of $2.75 will then be deduced from your digital wallet/credit card. If for some reason the tap is not confirmed, an error message will appear with one of the following reasons:
TAP AGAIN: The tap was not successful. Simply try again.
TAP ONE CARD: You are likely trying to tap a wallet with multiple contactless credit cards. Instead tap only one card at at time.
PAYMENT METHOD EXPIRED: The credit card has expired.
PAYMENT NOT ACCEPTED: This particular payment method you used is not accepted with OMNY.
RIDE LIMITED EXCEEDED: While you can tap a single method to pay for multiple taps when traveling in a group, you can do so only at maximum 4 times (including yourself) at any given station.
There are some caveats to using OMNY:
The system currently only supports full-fare, Pay-per-ride options. It does not yet support the weekly, monthly or discounted passes for seniors, students or low-income New Yorkers. We won't be seeing those until 2022 at the earliest.
Even on a single ride, the system allows for a single free transfer between subway and buses. With OMNY, make sure to tap the exact same credit card/mobile phone on both forms of transportation. The OMNY reader still says "GO" on the second tap, but at the end of the day, the MTA will only charge you a single fare.
If you use Apple Pay, I recommend you set up your credit card as an Express Transit Card. The tap will be significantly faster and you do not even need to unlock your phone.
For the time being, you cannot use cash to pay for OMNY. Some time in next few years a physical OMNY card will be introduced that customers can top off with cash. New OMNY vending machines will also be introduced later.
While not required, you can also optionally register for an OMNY account online so you can view your trip history and manage your payment methods.