So far, so good. Confusing as the system already is, it's going to get even more confusing as you need to watch out for some caveats.
Evening service
In the evening - usually after 10, 11, or midnight - you'll see some subtle changes to the trains. They arrive less frequently and run more slowly than usual. Express trains tend to become local, meaning that they stop at every station. You can find exactly what happens to your service by looking at the MTA website. In the top-right corner of the official MTA map you can also find a box with descriptions of how each service changes at nights and on weekends. There also exists a dedicated late-night subway map.
Weekend service
A few train services have a different weekend schedule. For instance, the B, W and Z trains never run on weekends or the Q no longer operates in Queens. This is also described on the MTA map as well as the MTA website. However, in addition to these regular weekend schedules, there will also be a plethora of other planned service changes that are specific to the upcoming weekend. Because the subway system operates 24/7 for all 365 days of the year, maintenance of the tracks or construction has to be done while the system is in operation. New lines are currently being added, while existing tracks and stations require constant maintenance. To avoid disrupting rush-hour traffic, maintenance happens on weekends - and they happen every weekend. The MTA website has a special Weekender page where you can check the service changes. Google Maps also incorporate these weekend changes when searching for directions and this Subway Weekender blog publishes very simple and useful maps of how the system looks like for each weekend.
As you enter stations, you will find "Planned Service Changes" posters indicating the type of change: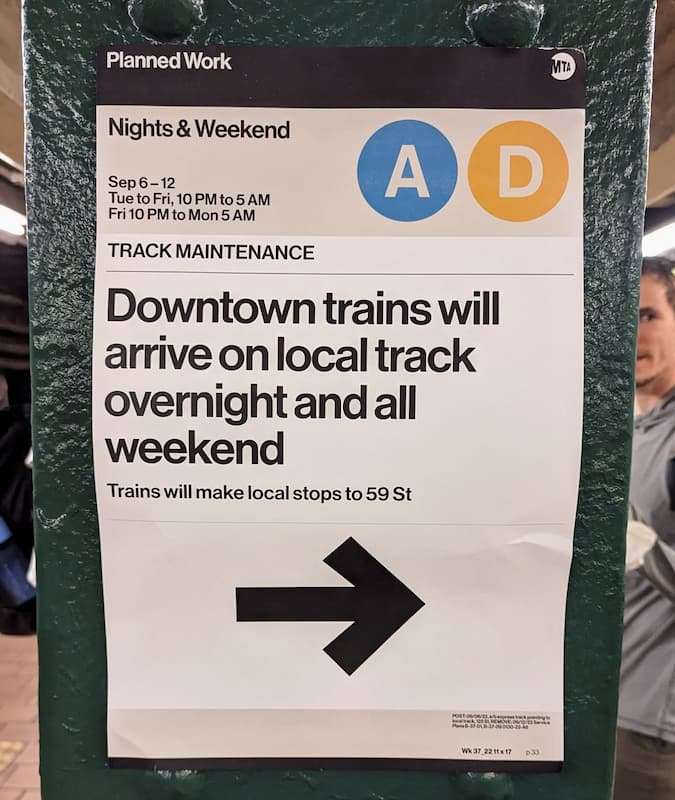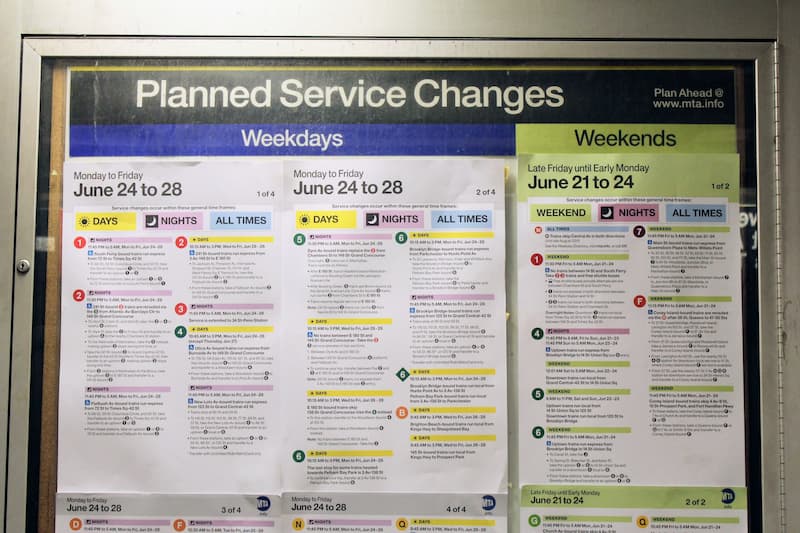 The type of change is very specific to each service. Read those posters carefully to determine what your next options are and also pay attention to the dates as these posters are sometimes posted for an upcoming weekend instead of the current one. The most common type of changes are as follows:
Express turns local
Express trains turn local for a certain section. This isn't too bad because you can still use the same train to get to the same destination. You just have to endure stopping at every station that usually would be skipped.
Local turns express
A local train that usually stops at every station is now an express train for a certain section. This usually means that in order to exit at your desired local station, you have to take this express train to the next express stop and then catch a local train in the opposite direction to end up at your desired destination.
A train replaces another service
Very often, a train is rerouted to a completely different train service altogether. For instance, the 5 trains, which typically run on the Lexington Line on the east side of Manhattan, sometimes run on the 7th Ave. line on the west side of Manhattan. Somewhere downtown it forks from the usual 5 track and merges back eventually to the 5 track somewhere midtown.
To illustrate, you find yourself standing at Times Square and suddenly see the 5 train approaching on the side of the platform where you otherwise would expect the 2 train. The conductor's announcement should be something like, "This is a 5 train running on the 2 track." In those cases, just think of that train as a 2 train. However, eventually the train will merge back to its original track and you might find some temporary sign posted in the station indicating when this will happen. Pay close attention to the conductor's announcement; it'll let you know when the train goes back to its original track.
On some trains, the route map shows a warning light, indicating that it's incorrect: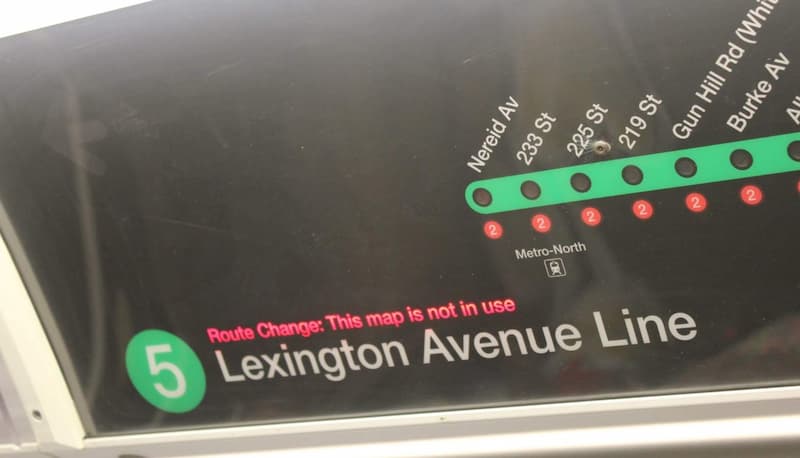 Train is complemented with a bus
The train is no longer running. You have to exit the subway station and take a free shuttle bus that drives along the same route to each subway station. This takes longer since above-ground traffic tends be slower.
Train doesn't run altogether
This train is out of service. Find some other route using a combination of other trains to get to your final destination.
Miscellaneous information
Stay in the know:
Follow the @NYCTSubway Twitter handle for more up-to-date service changes
Some stations (such as the 145th St on the 3 train) are so small that only a portion of the train can fit in it, so you must be in the first 5 cars of a train to be able to exit. The conductor will make such an announcement in the train several stops ahead giving you an opportunity to move your way to the front of the train at the previous stops.
All stations have cell phone service and free Wi-Fi (SSID: TransitWirelessWifi). However, you won't have either service while riding the trains underground.
Drinking and smoking is prohibited on the trains as well as anywhere in the stations.
If a particular car on a train is unusually empty, compared to others, there's probably a very good reason for this. Don't board that car unless you are prepared to see or smell something really disgusting.
The subway is more than 100 years old. It can be dirty and smelly down there. Don't be surprised to see rats crawling around the tracks and occasionally even at the ends of platforms.
The vast majority of platforms and tunnels are not air-conditioned. The heat becomes unbearable in summer.
The majority of subway stations do not have elevators. This means a lot of walking and climbing up stairs or using escalators. If you must use an elevator, then only use subway stations that are identified on the subway map with a wheelchair icon.
When you travel in a group, make sure everyone hops onto the train at the same time. Don't run ahead and catch a connecting train and risk leaving some members of your party behind when the door closes on them.
Don't walk between the cars of a train. It is illegal and dangerous.
If you find yourself accidentally dropping something valuable onto the tracks while waiting for the train, never retrieve the item yourself. The third rail on the track is electrified and you can be run over by an oncoming train. Instead, notify a station agent in the station booths; he or she can notify someone else to retrieve the item for you properly.
Don't be afraid to ask a New Yorker for help. Contrary to popular belief, we are actually pretty nice and helpful. We just won't offer any help unless we're asked.
Subway etiquette
There are some unspoken rules of etiquette to follow when you ride the subway. They may not be all that different from other transportation systems' ridership rules, but allow me to state them here:
Don't stop suddenly in the middle of a stairway or hallway to talk or text on your mobile phone. You'll annoy those behind you.
When you ride an escalator, stand to the right so others can walk past you on the left.
When you approach a turnstile, have your MetroCard ready to swipe.
If you can't successfully swipe your MetroCard three times, be courteous and let some people behind you enter first before you try again.
Let passengers exit the train first by standing to the left or right of the opening door.
When you enter a train, be sure to walk all the way into the train. Do not stop at the entrance and block other people behind you from entering the car.
Do not hold the doors open for others. You will delay the train (and the trains behind you) and annoy your fellow riders.
Do not lean on the poles inside the train. People will want to hold on to them.
Don't eat food that others can smell on the train (no matter how good it smells).
Don't stare at people. It makes us New Yorkers uncomfortable.
Give up your seat for an elderly or pregnant women.
On crowded trains, don't put your backpack or handbag on a seat that otherwise could be used by someone else.
On crowded trains, don't wear backpacks on the back. Wear them in front or take them off altogether.
As you exit the subway, don't stop at the top of the stairway and admire the scenery. There are people behind you who need to exit as well.
Frequently asked questions
Is it safe to ride the subway?
Generally, yes. Violence and crime on the subway peaked in the 1980s. Today New York City continues to be one of the largest safe cities in the world. This isn't Paris; there generally aren't any pickpockets to worry about.
What mobile apps do you recommend?
There are tons of them. Popular ones are Citymapper, and Episode6's NYC Bus & Subway map. You can also go on Google Maps (which displays the expected time of arrival of trains when you click or tap on station names) or use MTA's official Trip Planner.
Can I take luggage onto trains?
Many tourists do that, but you should consider several things. First, it might be strenuous to carry large pieces of luggage up and down the stairs. Some escalators are very narrow and many elevators have an unwelcome smell. Second, avoid bringing large pieces of luggage with you during rush hour. You might get some stares by commuters on crowded trains.

Carry-on luggage fits neatly underneath a turnstile, so you can just walk through the turnstile with it. For larger pieces of luggage, just place the luggage near the Emergency Exit door on the outside, then swipe to go through the turnstile, and then push the Emergency Exit door from the inside to retrieve your luggage. The Emergency Exit door is heavy, so you have to push with a lot of force. Opening the door will not trigger an alarm sound (despite the large warning on the door).

To exit the subway, you will find an intercom near the Emergency Exit door. Press the intercom, tell the booth attendant that you have luggage, and they will remotely unlock the door for you. Then, simply push against the metal bar of the door to open it.
Is it OK to take a bike onto a subway car?
Yes, although you should avoid it on crowded trains. Follow the same procedure as stated above about travelling with luggage.
Can I take pets on the trains?
Yes, as long as they are fully-enclosed in a carrier and don't pose an annoyance to other commuters. Many commuters have a soft pet carrier where they place their cat or dog in. Service animals like guide dogs do not have to be in a carrier, but must be on a leash/harness at all times.
Are the subway stations handicap-accessible?
Because the subway was built long before the passage of the Americans with Disabilities Act (ADA), a large majority of subway stations are not easily accessible for people with disabilities. Not all stations have elevators, and the majority of them don't even have escalators. Although the MTA is trying to improve the situation, it will take a long time. See the accessibility page of the MTA website for information about which stations are ADA-accessible (94 out of 424, as of 2018). On the subway map, ADA-accessible stations are identified with a wheelchair icon. You can also see those icons on the route maps inside the trains.
Can I find restrooms in subway stations?
The vast majority of subway stations will not have public restrooms. Some stations have restrooms, but they are locked up, leaving you with maybe only 10% of subway stations actually having usable restrooms. Typically these would be larger subway stations with a lot of transfers. However, many restrooms aren't very clean, so you might be better off trying to find public restrooms outside of the subway system.

Is there a discount for the MetroCard?
If you are a senior citizen or a person with qualifying disability you can apply for what's called a Reduced-Fare MetroCard. You can apply by mail or in person at the MTA Reduced-Fare MetroCard Walk-In Service Center in Lower Manhattan. Upon approval, you are issued a personalized Reduced-Fare MetroCard (with your name and picture on it), which allows you to ride the subway and bus at a 50% discount. You can refill this card at a MetroCard Vending Machine, though you should also consider signing up for the EasyPay program which links a credit card to the Reduced-Fare MetroCard so that the MetroCard automatically refills. For more information and the application, see the MTA website on reduced fares.

Alternatively, you can also show your original US-based driver's license, passport (of any country), New York City Department of Aging ID card, Access-A-Ride card or Medicare card directly at any ticket booth, and the agent there can issue you a single disposable MetroCard at the price of $2.75 but that can be used for two rides (giving you essentially a 50% discount). Note that the $1-fee-per-card is waived here. The ticket is not transferable, so to avoid illegal reselling you can only buy a single round-trip ticket at a time, and swiping such a ticket at a turnstile will light up a display that MTA agents are instructed to look for (i.e., young people trying to use these cards will be caught).
Can I get a refund if I lost my MetroCard?
You cannot get any refunds for the monetary value portion of a MetroCard. However, if you have paid for an Unlimited Ride window using a credit card or debit/ATM card, you can get a prorated/partial refund for the unused/lost time by calling 511. See the MetroCard Balance Protection Program for more info.
What else can I use the MetroCard for?
You can use your MetroCard to pay for local bus rides. It's the same fare as the subway, so if you have an Unlimited Ride card, it's essentially free. If you have a Pay-Per-Ride card, it will cost you $2.75 per ride. However, there is a free transfer from the subway (and vice versa), so if you just used your Pay-Per-Ride card for a subway ride, you can transfer to a bus for free within two hours. If you have used the Pay-Per-Ride card for multiple people on the subway, you have to swipe the card only once on a bus. The display will tell you that there are multiple free transfers and the bus driver will let multiple people go through. Similarly, if you have used your Pay-Per-Ride card multiple times on the bus, you just need to swipe it a subway turnstile once and the turnstile will let multiple people go through.

You can also use your MetroCard to take the short (three-minute) tramway from Manhattan to Roosevelt Island, which gives you some nice views over Manhattan. Because it participates in the one-fare system, it's essentially free if you have an Unlimited Ride card. The same concept about transfers, described above, applies here as well if you use a Per-Per-Ride card.