Disclaimer: These books were first published in 2013 and are outdated and don't have the same full content as this website.
The most convenient, cost-effective way to travel in New York City is by subway, but many first-time visitors, tourists, and even locals find the complexity of the system intimidating and confusing. Whether you are a first-time visitor or have struggled to use the subway system in the past, this guide is for you!
This book makes absolutely no assumptions about what you know about taking public transportation in New York or elsewhere. Illustrated with more than 70 pictures and figures, this detailed guide breaks down everything you need to know about using the subway - from the ground up. You'll learn how to read the subway map, properly differentiate between the many subway lines, and identify the correct trains and platforms. Filled with detailed information and many pictures, this guide will alleviate your fear and confusion about taking the subway and allow you to navigate it confidently and effectively so that you can focus on enjoying New York City.
What this guide includes:
A step-by-step guide on how to use the subway system
Dealing with weekend and weeknight service changes
Frequently asked questions about the subway
70+ pictures and figures allowing you to visually understand the system
Tips, tricks, and subway etiquette
Getting from New York's three major airports into Manhattan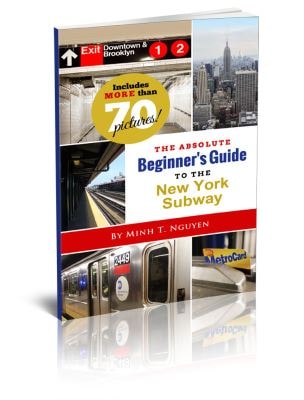 Buy this ebook for only $2.99 at
Buy this paperback for only $9.95 at

Guide d'utilisation du métro de New-York pour les débutants
Lulu
|
Amazon Kindle
|
Apple iBookstore
|
Google Play